Sydney turned on beautiful conditions this year for our Reef Life Surveys. Sunny weather combined with generally calm conditions and good viz – sometimes 20 m – to make this one of our best survey years. We were fortunate, being local, to be able to make the most of the conditions over several weeks in February / March, completing 45 surveys spanning 19 sites in the Sydney region. Our five amazing RLSers (Josh Moloney, Kris O'Keeffe, Lou De Beuzeville, George Wood and Yanir Seroussi) joined me and our patient boat crew (Denise Lawler, John Velarde and Kathy Giles) to record 141 species of fish and 45 species of invertebrate. Pretty amazing for Australia's largest city!
Most abundant fish were the Eastern hulafish (Trachinops taeniatus; 17,000+), Mado Sweep (Atypichthys strigatus; 5000+) and Yellow-tail Scad (Trachurus novaezelandiae; 1300+), and invertebrates Long-spine / Black urchin (Centrostephanus rogersii; almost 6000), Tent Turban shells (Astralium tentoriiforme; 1600+) and Turban shells (Turbo torquatus; almost 200) totalled across all surveys. No surprises there. Most noticeable was the lack of tropical recruits, which we normally see by this time.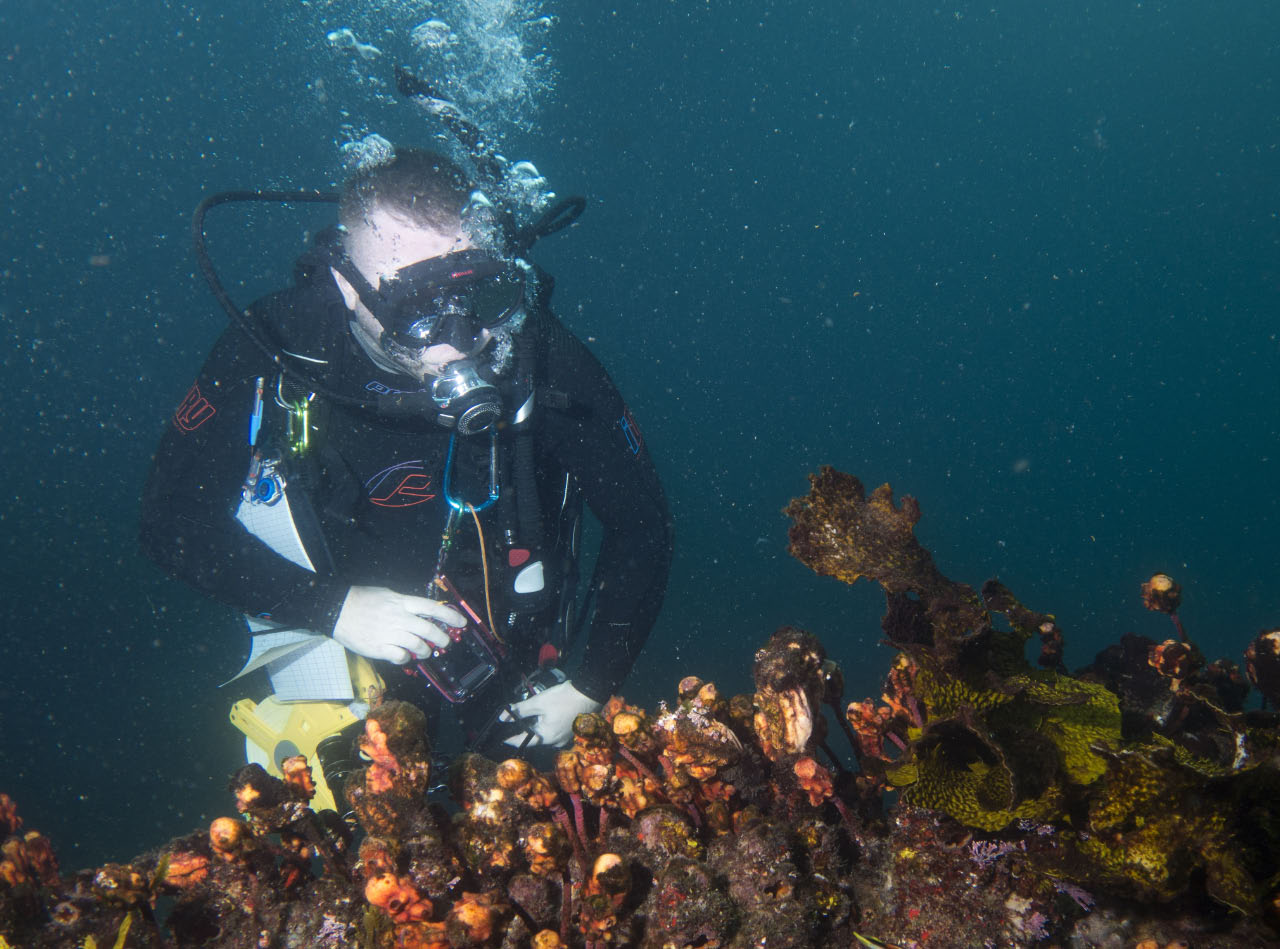 Josh looking for invertebrates. Photo by John Turnbull.
And yet, the water was positively tropical – clear and exceptionally warm. On some days we recorded water temps of 25 C even down at 15 m! More than once we were peeling off layers rather than putting them on – a nice problem to have. I wonder if the big storms in Queensland combined with general warming conditions and strengthening East Australia Current to bring us the "GBR experience" for a few weeks?
We also noticed the great extent of urchin barrens in the region. This may just be that we're more aware of them, with recent focus on urchin barren expansion elsewhere, so it would be interesting to look at the time series data in the photo quadrats over the decade or so that we've been surveying Sydney. Something to do in our spare time. But we won't have much of that – with data entry, Jervis Bay surveys coming up, and the odd other commitment. Thanks again to everyone involved, for doin' it for the data!
-Story by John Turnbull.