Despite a serious low-pressure system building off the west coast of Tasmania, promising gale force winds and torrential rain, a crew of dedicated divers headed up to Tassie's rugged north-west coast for the annual RLS Rocky Cape training and survey weekend.
The annual RLS Rocky Cape trip kicked off on Thursday with a group of keen divers descending on Tasmania's rugged north-west coast for a four-day weekend of training and surveys. The crew consisted of Rocky Cape regulars: Jeremy Ward, Iona Flett and Fred Rueff, as well as RLS trainer Rick Stuart-Smith, newbies Lara Denis-Roy and Millie Banner, and me. Normally hidden behind a desk at RLS HQ, I was keen to get out in the field to try the survey methods and learn the species I so often see on my computer screen. With a serious low-pressure system building off the west coast of Tasmania, promising to bring some seriously strong winds over the weekend, the Rocky Cape trip was set to be an interesting one!
We kicked off the surveys on Friday morning, with Iona, Jeremy and Fred taking Fred's boat west to survey Donut Reef and Rocky Cape West, while Rick, Lara, Millie and I headed north-east, navigating steep wind chop to reach the protected bay on the western side of Sister's Island. Despite the swell, both teams managed to complete two surveys each before heading home to spend the afternoon entering data and learning who not to tip in the footy (in summary: Collingwood).
The weather on Saturday morning was particularly unpleasant and the team quickly abandoned hope of a boat dive. Instead, we headed down the road to Rocky Cape in the hopes of doing a shore dive from the western side of the cape, where we expected it to be sheltered from the persistent north-easterlies. The site was sheltered but the visibility looked questionable. As we stood around umming and ahhing about whether to get in and do a survey, the heavens opened and the rain hit. Standing in the cold, soaking wet, we decided the next best option was to head over to Stanley and check the conditions there. But alas, conditions in Stanley were even worse, so cutting our losses we went out for hot chocolates at a local café instead. After trying a number of exotic hot chocolate flavours, like lime and blueberry cheesecake, the team made our way back to Sisters Beach, where we spent the afternoon practicing our species' ID's.
The jagged Precambrian rocks of Sisters Island. Photo by Ella Clausius
Sunday was a fantastic day for diving, with glassy seas, light winds and good visibility. Iona, Jeremy and Fred headed back around to Rocky Cape where they surveyed the Rocky Cape and Anniversary Point sites. Though there were no seahorse sightings, the team did see a school of Bastard Trumpeter (Latridopsis forsteri), Yellow-stripe Leatherjackets (Meuschenia flavolineata) and a Ceratosoma amoenum nudibranch.
For our dive, Rick, Millie, Lara and I first headed to a site called Anniversary Rocks. Before our dive, we were told that this site was an urchin barren, so we readied ourselves to count a whole lot of urchins and not very much else. But the site turned out to be far more interesting than I expected. The urchins, in their effort to clear the area of its precious kelp species, had exposed the underlying Precambrian rocks. Over the last billion years, these rocks have been forced skyward and the softer sediment layers warn away by the ocean and wind, such that the remaining alternate layers of hard rock now stick up at sharp 45-degree angles. The jagged grooves of rock were, as expected, filled with Purple Urchins (Heliocidaris erythrogramma), as well as Orange feather stars (Comanthus trichoptera), Mosaic Seastars (Plectaster decanus, Common Triplefins (Trinorkolkia clarkei) and a Phyllodesmium macphersonae nudibranch, the first record of this species for RLS.
There was also a number of Blue-throat Wrasse (Notolabrus tetricus), juvenile Snakeskin Wrasse (Eupetrichthys angustipes) which we commonly mistook for Castelnau's Wrasse (Dotalabrus aurantiacus), Barber Perch (Caesioperca rasor), Long-snouted Boarfish (Pentaceropsis recurvirostris) and Magpie Perch (Cheilodactylus nigripes). A sneaky Giant Cuttlefish (Sepia apama) also popped up over a rock to scope out the scene, before disappearing back below.
The second dive of the day was at a site just around the corner from the first. The site turned out to be cryptic fish heaven, with the team finding plenty of Common Triplefins, a Bighead Triplefin (Trianectes Bucephalus), Dragonets (Bovichtus angustifrons) and several Weedfish (Heteroclinus spp.). We also got to see some beautiful Horseshoe Leatherjackets (Meuschenia hippocrepis). It was a particularly great dive for Millie who not only captured the moment a Forsters Weedfish (Heteroclinus tristis) caught and ate another smaller Weedfish, but also saw a school of Southern Bluefin Tuna (Thunnus maccoyii) swim past the transect line! Rick, who had been eagerly scanning the surface of the water all day in the hopes of seeing signs of the elusive Bluefins, had his head down searching for cryptic fish when the school pasted by.
To top off the morning, we headed back out to Sister's Island to see if we could find the Tuna but were instead graced with the presence of a beautiful Shy Albatross (Thalassarche cauta).
After some data entry in the afternoon, the crew headed out for dinner and drinks at a local restaurant with some of the other local RLS divers, Richard Ingram and Mez Purton, where we watched the low-pressure system move in over the strait. Overnight we were gifted with torrential rain, 70 knot winds and a magnificent electrical storm.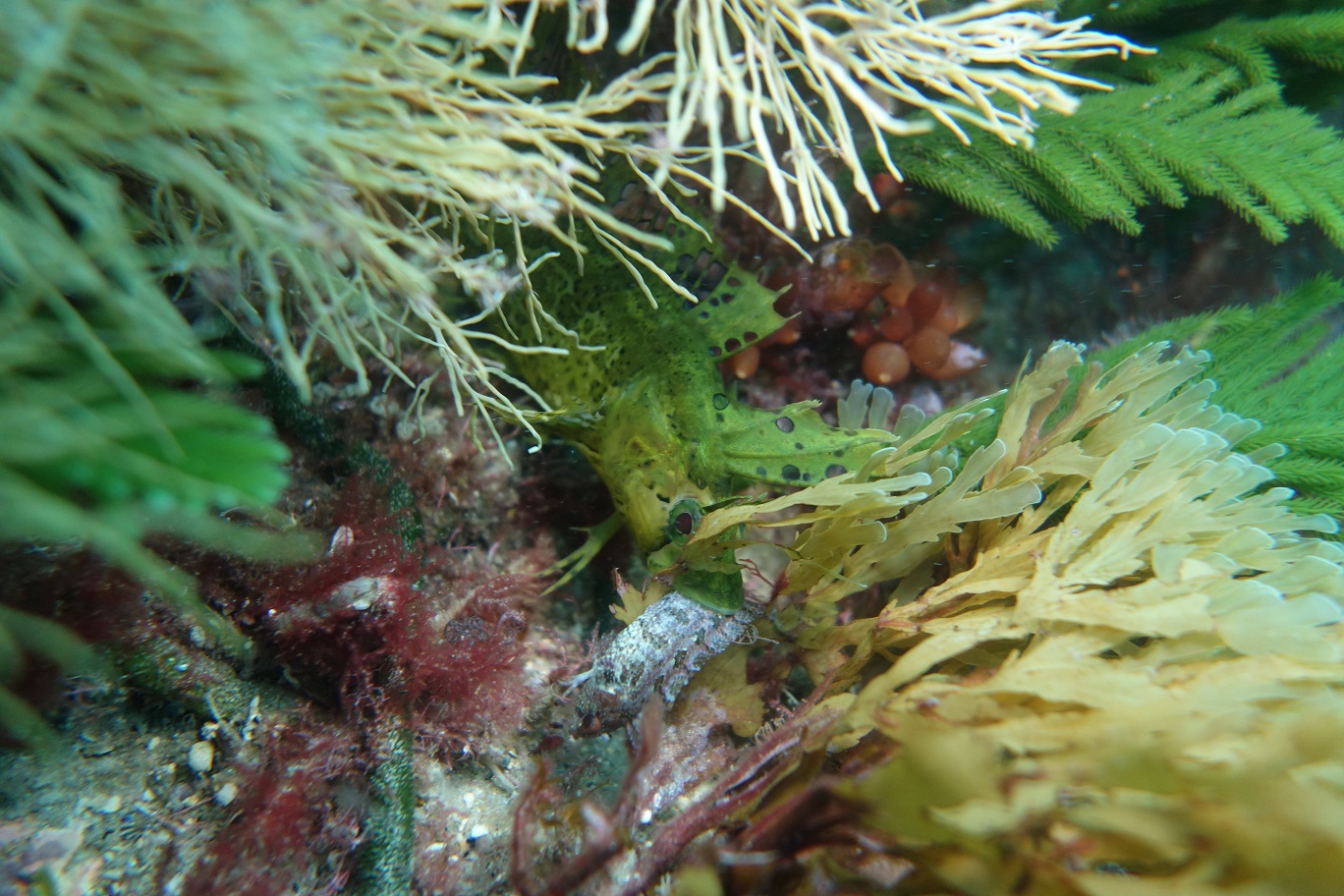 Forsters Weedfish (Heteroclinus tristis) with a smaller Heteroclinus spp. in it's deadly grasp. Photo by Millie Banner.
Given the weather, boat dives were out of the question on Monday morning, so the crew headed back to Rocky Cape to try our luck on the eastern side of the Cape.  The wind was bitterly cold, and we reluctantly donned our wet gear, eager to get back into the relatively warm water. Just out from the boat ramp, the team encountered numerous Black lip (Haliotis rubra) and Green lip (Haliotis laevigata) Abalone, Senator Wrasse (Pictilabrus laticlavius), a school of juvenile Common Bullseye (Pempheris multiradiata) and a huge Rock Flathead (Platycephalus laevigatus).
After the dive, the crew said their goodbyes and headed their separate ways, marking the end of another successful Rocky Cape training and survey trip. At the end of the trip, the team had completed 11 surveys at 8 sites, recorded 3971 individual animals including 25 fish species on method 1 and 36 species of inverts and cryptic fish on method 2, and trained 2 new RLS divers.
Massive thank you to the crew for all their hard work and great company over the weekend. And to Rick for sharing his extensive knowledge of the marine environment with us. Thank you also to Cradle Coast NRM for their support of this and the last three Rocky Cape surveys, through a Natural Connections Grant.