RLS diving network extends to Chile
Opportunities to establish RLS activities in Chile were greatly boosted this February by a somewhat fortuitous gathering of RLS divers and scientists. Gedgar and I were travelling for a workshop in Patagonian Chile, where we managed to resurvey the sites in the southern Fjords that Gedgar did in 2012 with the support of local scientist Günter Försterra. Spanish RLS Extraordinaires Jose Sanabria and Natali Lazzari also happened to be in Chile, on research visits in Las Cruces and Santiago, while former Canary Islands RLS diver Rodrigo Riera and former University of Tasmania PhD student and diver Ivan Hinojosa were now based at the University of Concepción. Add to the mix RLS collaborator Sergio Navarrete and his colleague and accomplished field ecologist Alejandro Pérez-Matus in their newly appointed research station at Las Cruces, and we had an incredible mix of skills, experience, enthusiasm and potential. To top it off, Parks Victoria colleagues in Australia had also had a lot of interest from a dive shop and community group further north at Chañaral in becoming part of the growing global RLS network. So we all gathered at Las Cruces (Sergio an unfortunate apology).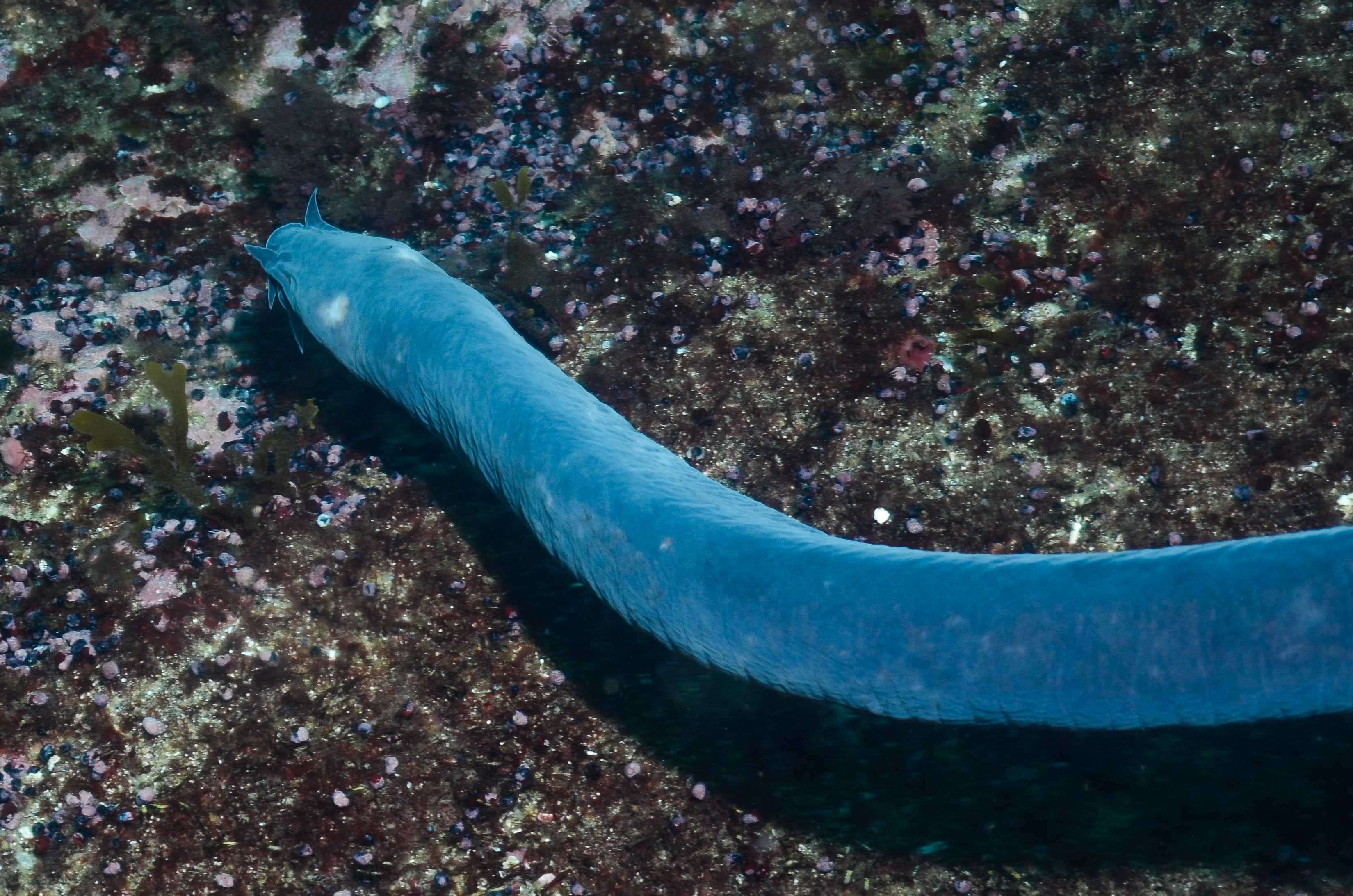 Chilean Hagfish (Eptatretus polytrema). Photo by Graham Edgar.
The first day we held a trainer's workshop, for Jose and Natali to be recognised as RLS trainers after leading the charge in Spain for the last few years. We also ran Alejandro and Ivan through the training procedures, and refreshed Rodri. The next few days consisted of surveys at nearby coves while Jose and Natali trained Chañaral diver Julian Muggli.
Although the coastline is very rugged and exposed, there were many more species than where we had just surveyed in the fjords to the south (where only 2 to 4 fish species were on each method 1 survey). It was interesting to see a fauna with a lot of similarities to back home in Tasmania, although I can't imagine what our coast would look like with the same commercial 'fishing' pressure on the dominant kelps. Alejandro presented some very interesting research on this to the group one afternoon.
While not a 'typical' RLS trip, this gathering was exciting for all involved, and will hopefully form the beginning of further collaboration and the establishment of some core RLS monitoring sites along the Chilean coast. Ivan, Rodri, Alejandro and Sergio all have opportunities to link student projects with RLS, and the opportunities for Jose and Natali's expert assistance in training more of Julian's friends at Chañaral represent promising avenues for an RLS future in Chile. We look forward to posting more in this space through the future!
Story by Rick Stuart-Smith.