Eviota commenced the final stages of the 'Lap of Australia' in Airlie Beach on the 5th of August 2021, with Graham, Tyson, Ian and Kirsty on board. The destination was Broome via the Coral Sea, with the sail set to take 6 weeks. Kirsty Whitman, one of our RLS divers, talks about her experience full of amazing sailing, diving and adventure over the 6 weeks.
Whitsundays – The journey commences…
We started the trip with a couple of "cooler" dives in the bays of the Whitsundays. It may have been warm for the others, but for me, 22 degrees, was quite chilly. It was great to get back into surveying, especially as the first few dives were accompanied with humpback whale song. After a few dives in the bays, we moved out to Bait Reef, diving and then spending a night on the reef. We had a beautiful morning dive seeing a large, fat footballer trout (Plectropomus laevis), around 90cm long. The humpback song was playing in the distance, once again.
Diamond Islets
It was a bumpy 24hr sail to the Diamond Islets, with 30knot winds on the nose and a 3m swell. It was particularly bumpy for Tyson and I who had the forward cabins, being joggled around with each wave. Night watch was a little wet, but peaceful all the same. We arrived early morning after a 240nm sail and started our surveys.
The architecture of the reef out in the coral sea was absolutely stunning; with massive bommies, gullies and swim-throughs. The coral cover was quite low and the reef dominated by algae, however the water was warm with incredible 40 metres visibility. On one dive I saw 6 inquisitive grey reef sharks (Carcharhinus amblyrhynchos) , ranging in size from 1m to 2m! We went ashore to East Diamond Islet in the late afternoon to check out the bird life. This is a small island, 220nm from the Whitsundays and home to many sea birds.
Reef Scene at Diamond Islet. Photo: Ian Shaw
Chilcott (Coringa) Islets – 10/08/21

Leaving the Diamond Islets at night with the wind behind us made for a beautiful and serene sail. All the stars in the Milky way were out and shining. The bioluminescence, stoked by the movement of Eviota, was lighting up a beautiful green-bluish colour, sparkling out into the ripples. We arrived to a stunning sunrise over the Chilcott Islets. The wind was up and unfortunately a hat was lost to the ocean, much to Tyson's dismay.  We dived, counted fish and inverts and onwards, we sailed.
Magdelaine Cay 11/08/21
We arrived at Magdelaine Cay after another bumpy sail into the wind. Magdelaine Cay hosts a turtle graveyard. This was both fascinating and upsetting to visit. It looks like an idyllic nesting ground from the ocean, with a soft, sandy and sloping beach front with plenty of space. When you walk up to the crest, it is an abrupt change, into a nightmarish battlefield of jagged rocks. Some turtles try to tackle these grounds and get trapped, unfortunately perishing. We stayed overnight and had a wonderful rest. The diving here, once again had amazing visibility and reef architecture.
Ashmore Reef – 16/08/21
Ashmore Reef is located 136nm from Thursday Island and 112nm from Papua New Guinea. On the sail here we saw a pod of false killer whales, surfing gracefully in the waves. There was a hurry to grab our cameras and try for some photos!! We arrived at sundown on the 16th, watching the sunset with a beer and stayed for 3 days. The diving was awesome with were many curious olive sea snakes (Aipysurus laevis), that loved to follow us on the dives, and play in our fins. The coral was gorgeous, fish life abundant and quite a few sharks were sighted!
Boot Reef
Boot reef emerges rapidly from depth (900m – 1500m), creating amazing wall diving. These dives were my personal favourites. Because of the depth, live dives are required. On my first dive with Tyson, we were greeted by a little grey reef shark, checking us out as we jumped in. We descended and reeled our transects out. The reef wall was beautiful with lovely corals and some huge gorgonians. Fish life was incredibly abundant and biodiversity was high. There were almost an overwhelming number of fish to try and count! Tyson and I saw 3 silver tip sharks, 3 grey reef sharks and to top off our shark count, a leopard shark (Stegostoma fasciatum)! My second dive with Graham had a strong current, so we completed just a single transect, again with loads of fish! This dive had a huge school of Bumphead parrotfish (Bolbometopon muricatum), probably 50 strong.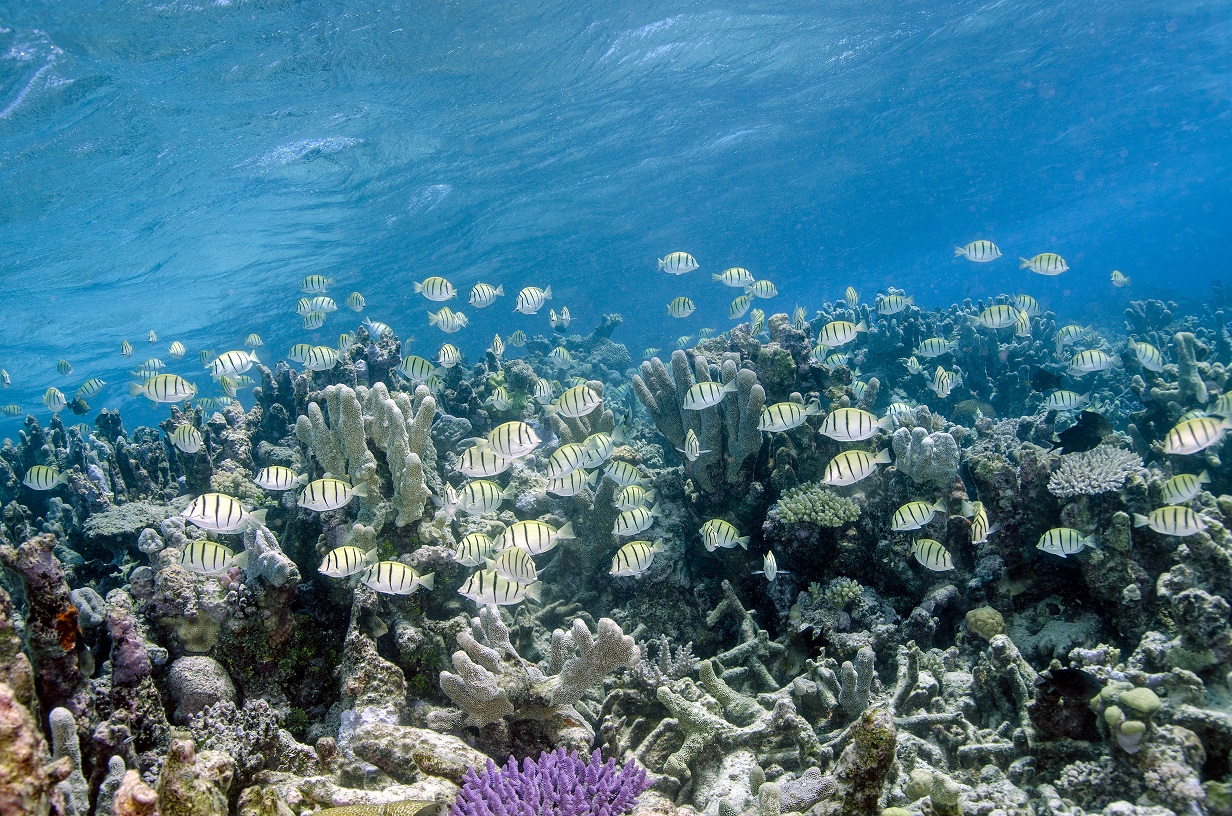 Acanthurus triostegus at Ashmore Lagoon. Photo: Ian Shaw
Sevens Reef
Staying over-night we decided to go for a fun night dive. This was full with interesting critters.  Mathae's sea urchins, (Echinometra mathaei), were out and about in the hundreds. We saw Lions-paw Sea cucumbers (Euapta godeffroyi), a family of 5 yellow box fish cruising around, (Ostracion cubicus, my favourite juvenile fish!), a huge green turtle (Chelonia mydas), an epaulette shark, (Hemiscyllium ocellatum), and a barramundi cod, (Chromileptes altivelis)!
Horn Island

We arrived at midnight on the 23rd of August, anchored up and went to bed. The next morning the mast stays came down, having started fraying some time earlier in our journey. I flew the parts to Cairns where it took a week to fix. I had a nice time, visiting with friends, waiting for the rigging to arrive. This delay, however, resulted in big changes to travel and survey plans. Rather than heading to Broome, we were headed to Darwin. It also led to a crew change, with Ian leaving Eviota earlier than originally planned. I arrived back on Horn Island, with Mark Shepard, our new crew member, on the 30th of August.
The new rigging went up and we left that evening, ready to cross the Gulf of Carpentaria.
We sailed over 800 nm from Airlie Beach to Thursday Island, only using the engines on approach and to leave our dive sites, so using only 100 litres of fuel. This leg was full of amazing sailing, diving and adventure. We completed 39 sites and 70 surveys, scoring 603 species. Many sunrises, sunsets and a few sunset beers were enjoyed by the crew.