This February, a cracking team of RLS volunteers gathered on picturesque Lord Howe Island, NSW for the biennial RLS survey extravaganza!
This February, a cracking team of RLS volunteers gathered on picturesque Lord Howe Island, NSW for the biennial RLS survey extravaganza! Despite tropical cyclone Uesi tracking straight for the island, promising gale-force winds and wild seas, the team were raring to jump in and get the surveys underway!  These surveys form one of the key marine research projects for monitoring changes in the World heritage listed Lord Howe Island Marine Park and have been undertaken every 2 years since 2006.
This year's Lord Howe team was composed of mainland volunteers John Turnbull, Kris O'Keeffe, Rick Stuart-Smith, Jen Hoskin, Tom Davis & Yanir Seroussi, as well as local Lord Howe resident Sophie Powell and Lord Howe Island Marine Park team of Sallyann Gudge, Caitlin Wood, & Justin Gilligan. We also had generous boat support as per previous years from Aaron at ProDive and Brian and Jack from Howea Divers/Noctiluca, with last minute and very welcome assistance from Chad Wilson on Chamaeleon.  The surveys were also supported by NSW Department of Primary Industries, whose staff manage the LHI Marine Park and who provide accommodation, tank fills and logistical support for the survey team.
Highlights from this year's trip included a surprising number of island longfins (Plesiops insularis) both inside and outside the Lagoon, a large aggregation of the normally-solitary bird-nose wrasse (Gomphosus varius) at Erscott's Blind Passage, and the 2nd ever southern hemisphere sighting of the nudibranch Halgerda onna; a new species record for RLS!
Despite Cyclone Uesi forcing the team to take a few "dry" days, the team managed to complete 93 surveys across 36 sites; a monster effort from all involved! The team recorded 196 fish species for method one and 144 species of macroinvertebrates and cryptic fish species for method 2.
RLS now has data 6 years' worth of data from the LHI Marine Park dating back from 2006. The 2020 surveys form part of the Lap of Australia project funded by The Ian Potter Foundation. Thanks to the LHI Board for allowing the Reef Life Survey team to stay at the recently upgraded LHI research Station accommodation and also utilise the laboratory facilities.
For the ins and outs of this year's trip, check out Kris O'Keeffe's daily highlights below:
Old Gulch, Lord Howe Island. Photo by Rick Stuart-Smith.
Kris' Daily Highlights
The surveys before the storm: Days 1- 5
RLS mainland volunteers landed in Lord Howe Island on the afternoon of 08/02/2020. We were picked up by Sallyann Gudge (DPI NSW) who kindly dropped us to our accommodation for the next 2 weeks at the research station, where we later had a bit of a welcome briefing whilst enjoying some awesome pizzas for dinner.  The weather forecast wasn't looking as good as we hoped for with some high wind, swell and rain on the cards for next week but still looked optimistic in terms of being able to get the bulk of the sites done.
The following morning, we got out to North Bay to do a couple of the less complex transects which helped as a bit of a warmup for the surveys to come. We spent the afternoon doing data entry and a bit of shopping, with a quick cycle down to the WW2 Catalina historic crash site where Yanir tested out his bike's ability to stop using a tree as a brake (luckily no major damage). We also went and checked out the cute White Tern baby chicks hanging out at the back of Pro Dive boat shed.
On day 3, we geared up and headed out on the Pro Dive Boat to do 2 dives at the Admiralty Islands.  Despite 2m+ swells on the way out (making for a fun boat trip) the conditions under the water were excellent with 20m+ visibility and 25C water temperature.  We completed transects at Philip Rock and Rupert's Reef, where we saw many of the local personalities (e.g., Pseudolabrus luculentus, Parma polylepis & Ophidiaster confertus), along with a few large Coral Spiny Lobsters (Panulirus longipes).
Over the next two days, we completed sites at Little Slope, Little Island, North Head and Erscott's Passage, where we were able to explore the cave and found a sea turtle hanging out around the entrance.
The Storm (Days 5-7)
On the evening of our 5th day, we battened down the hatches and prepared for Cyclone Uesi to pass straight over Lord Howe Island overnight. The following day there were a few up rooted trees' but luckily no catastrophic damage to the Island.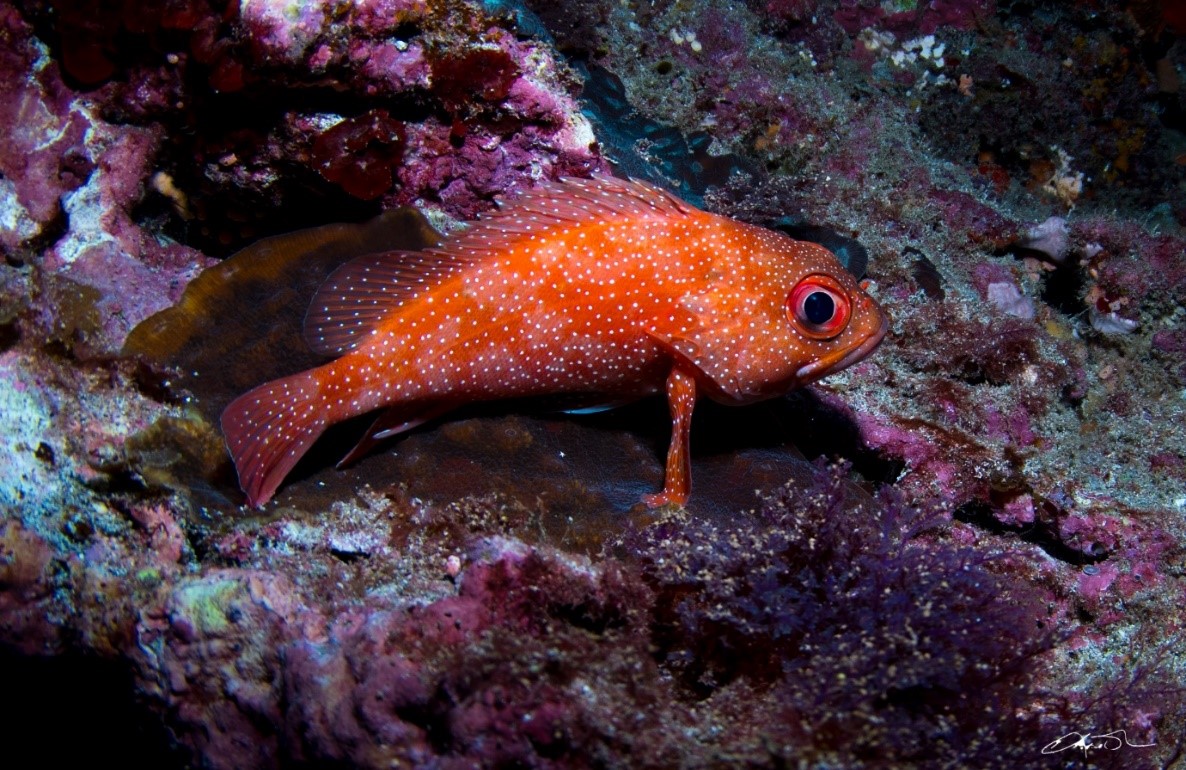 Strawberry Cod, Trachypoma macracanthus. Photo by Kris O'Keeffe
After the storm had passed (Days 8-13)
On our 8th day the seas were still settling down post-Uesi so we targeted some sites in the sheltered Lord Howe Island Lagoon.
On the 9th & 10th days, the seas had finally settled enough to allowed us to survey some of the deeper dive sites at the Admiralty Islands, including Sugarloaf West and Noddy Island. The sites had excellent visibility of up to 30m, with impressive drop-offs, soft corals and pelagic species. There were also some picturesque schools of grey knifefish (Bathystethus cultratus) in the surf zone, along with large blue & pacific drummer (Girella cyanea & Kyphosus sectatrix, respectively). A school of passing galapagos sharks (Carcharhinus galapagensis) were also sighted out in the blue water.
In the evening we had Discovery Day, an annual games event at Lord Howe Island where everyone gets together for a bit of fun and healthy competition. The RLS team came first in the wheelbarrow race, made it to the final of the three-legged race, were in the winning tug-of-war team, came third in the sprint and were disqualified in the tunnel ball.
On Day 11 we completed a couple shallow survey dives in the Lagoon. After the first dive, a large Huntsman spider was found hanging out inside John's dome port; we wondered whether the Huntsman enjoyed his underwater dive in the submersible system.
Days 12 & 13 we surveyed the remaining sites including Ned's Beach & Keyhole, where we were blessed with glorious conditions and 40m+ visibility. On Thursday events we had Parrot School, with Rick providing a good overview on the local parrotfish and tips on how to distinguish and identify them based on colouration and nuances in their shape. The ability of some Parrotfish species to rapidly change colours further adds to the challenge of identifying them.
On our final evening, Rick & John held a community talk at the local museum, covering Reef Life Survey and the methodology, and a discussion on how local fish species populations are changing and the conservation challenges they face.