South Australia training & surveys 2019
It's been a long awaited reunion for the RLS divers in South Australia due to a round of bad weather which resulted in a few RLS trips being cancelled in 2018 including the annual RLS training trip. After beginning to think SA was cursed the weather finally eased in March for us to survey Encounter Marine Park and the Adelaide Mount Lofty Region long term reef monitoring sites. Over 3 big days 12 divers led by RLS Trainer Danny Brock and Co-ordinator Jamie Hicks including; Chelsea Haebich, Ember Corpuz, Alex Lea, Emma Louise Daly, Anthony Newbery, Amy Young, Tom Stewart, Ian McArdle, Ali Bloomfield and Kris O'Keefe conducted 28 surveys at 7 sites at Rapid Head and Second Valley.
We were delighted to have our first volunteer from interstate Kris O'Keefe join us who gets a special mention for travelling all the way from NSW to join our cold water dives. Whilst we didn't get Kris a colourful harlequin fish on transect we were lucky to see some other iconic South Australian marine life including playful Australian sea lions (Neophoca cinerea), grumpy Western blue devils (Paraplesiops meleagris), cryptic Leafy Seadragons (Phycodurus eques), skittish Banded Seaperch (Hypoplectrodes nigroruber), swirling schools of Yellow-headed Hulafish (Trachinops noarlungae) and a few sightings of the rare Velvetfish (Aploactisoma milesii; as per photo by Chelsea Haebich).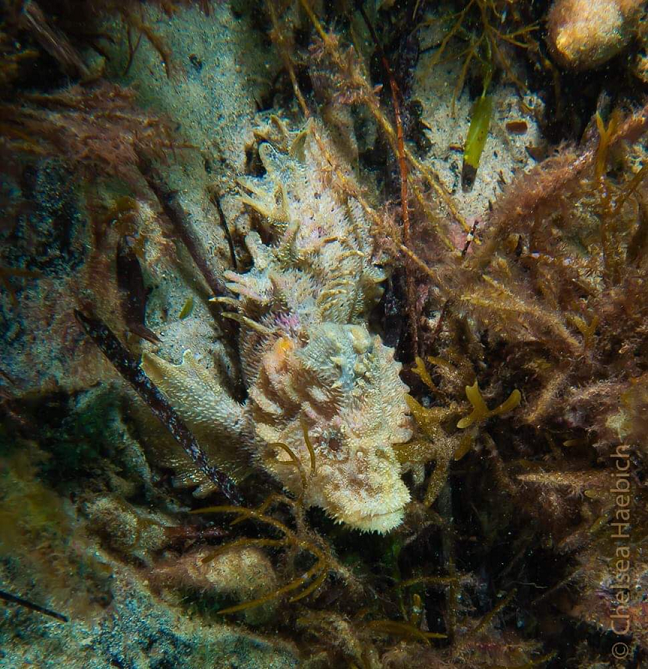 Velvetfish (Aploactisoma milesii). Photo by Chelsea Haebich. 
The dedication of the volunteers on this trip was truly impressive from their hasty morning car runs to the ramp, persisting with Danny's "bootcamp" style of training in raging surface currents, still smiling despite some topside and underwater fish berleying in the surge, maintaining adaptability and patience as we had to change some of our sites and lastly being the perfect data nerds at the end of the day entering all their data with no fuss. We could not have asked for a better group and can't wait to get out there for another dive soon to keep these divers on their toes and fresh in their RLS skills.
It takes a village to run these trips so special thanks go out to; Dave Gordon and the crew at Underwater Sports for always providing us with such lovely crew and dive boat to work off; Darryl from Marine Parks for providing insight into the world of AMLR Marine Parks and being a swift deckhand; Kris and Ali B for volunteering your time to collect data and being our role model RLS divers; Adelaide Mount Lofty natural Resource Management Board and Department for Environment and Water for their contribution to funding this expedition; RLSF for their on-going support; Danny Brock for his support and ability as a RLS Trainer to make everyone learn and laugh at the same time and all the volunteers who dedicate their time as citizen scientists and custodians of our local reefs.
Story by Jamie Hicks.